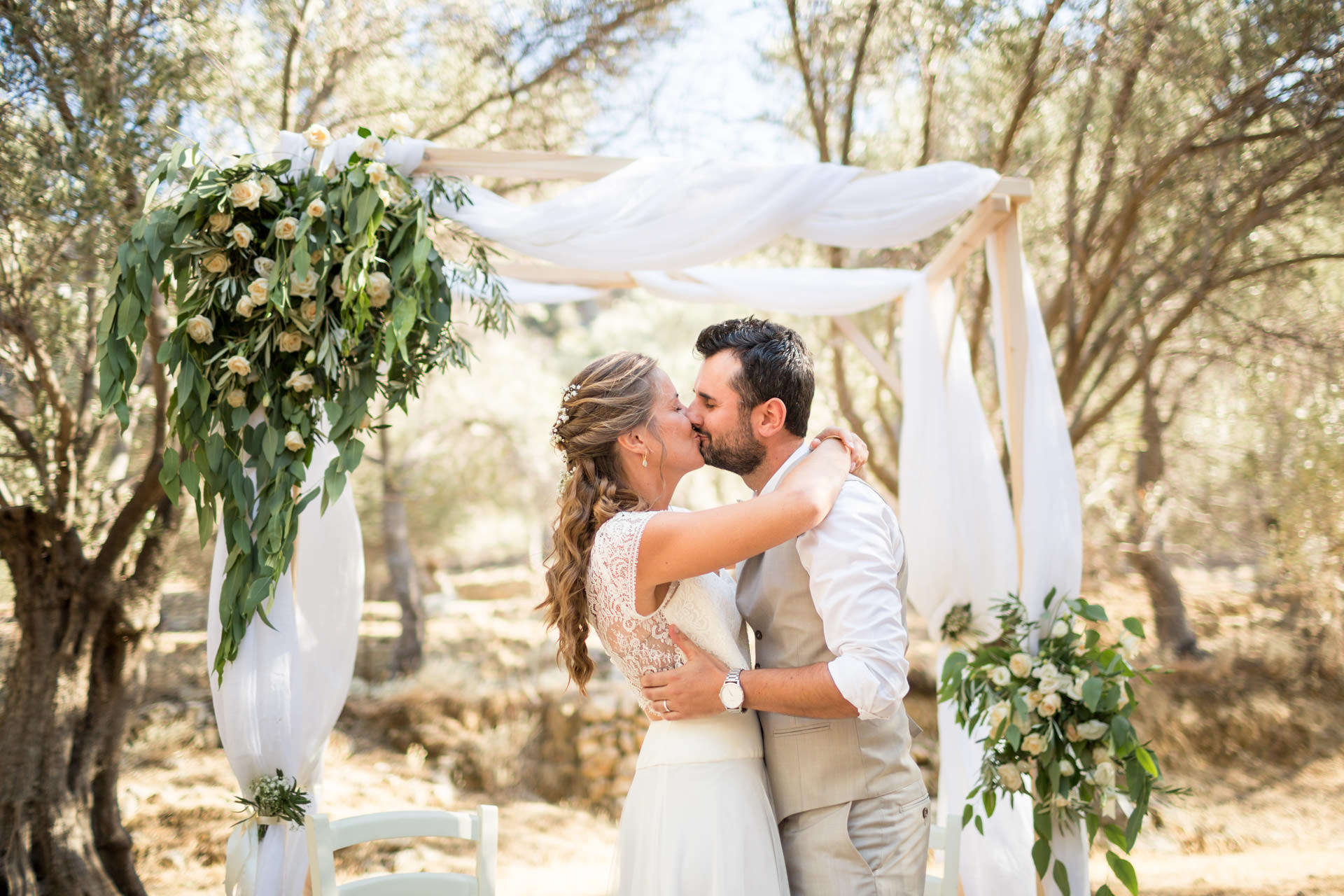 Crete Wedding Venues
When you are planning your marriage in Crete, wedding venues are the first thing you need to consider. Indeed, they can enhance your wedding day and they play a major role in its success. The truth is that there are many venues with a very common and traditional approach.
However, couples today look for an unconventional setting for their wedding. They prefer to have their wedding in natural settings with a scenic background. For example, a sunset wedding in a beach, an island wedding with breathtaking views, at a picturesque farm etc.
Olive grove wedding
Two people in love decided that their favorite Crete wedding venue was an olive grove! So, the wedding day started in a magnificent location at the Cretan countryside. The ceremony venue was located under impressive olive trees. The area was very close to Paleochora, in South Crete.
Their guests arrived on foot. The space was impressive, the decoration was natural and it was fitting perfectly to the environment. Admittedly, the arrival of the bride accompanied by her father was a very special moment. Additionally, it is incredible when you see all of "your" people being there for you, everyone in the same place at the same time. Groom and bride were standing next to each other under the wedding arch. The wedding readings offered several moving moments. In the end, the natural environment of the island is an ideal scenery for a marriage, the best wedding venue in Crete.
Wedding Destination Crete
Crete is a wonderful island with amazing scenery and picturesque locations. It is the most popular and largest island of Greece, a feast for travelers! In fact, it has lots to offer. Exquisite natural beauty, culture, local flavorful delicacies!
With some breath-taking venues for weddings, it is emerging as one of the most popular wedding destinations for many couples. Actually, the area provides many opportunities to enjoy such a day on this marvelous island. Crete wedding venues allow you to select from impressive beaches, historic "forts", quaint villages, private estates where you can organize your great day in style. More importantly, it is a marvelous place, if you are planning to walk down the aisle in a beautiful scene, surrounded by the nature…
IDEAS FOR WEDDING VENUES IN CRETE
1st Idea: Beach Weddings. Wedding vows under the sunset rays, on a sandy beach with the sea breeze as the witness! Many amazing wedding venues in Crete can make that dream come true. Beautiful beaches with marvelous views give the couple a chance to say "I Do" with their feet on the sand and with an awe-inspiring view of the gleaming water. In other words, the scenic background of the sea makes this as one of the best places to get married.
2nd Idea: Wedding Resorts – Private estates – Wedding Hotels. Wedding resorts, estates and some hotels in Crete contribute towards a romantic wedding experience. Most importantly, they take care of the individuality of each couple and pay attention to even the smallest detail. Overall, they organize a unique experience that includes magnificent settings, superb cuisine, personalized and meticulous service.
3rd Idea: Cretan Winery. One of the most unique places to get married. They are surrounded by picturesque mountainous landscape which gives an amazing ambiance for your wedding setup. Additionally, the rustic setup at the spacious courtyard along with some remarkable wine tasting can be a perfect place to make the day memorable for you and your guests.
4th Idea: Historic Fort. This beautiful venue offers breathtaking views of the sea. Firstly, it offers both indoor and outdoor venues for your wedding arrangements. Secondly, there is enough space for small and large wedding groups. Moreover, this place has numerous attractive spots for wedding photographs.
5th Idea: Church Weddings. The impressive architecture of the churches makes them a beautiful venue for your wedding day. There are many churches, which are located in quaint Cretan villages and can host perfectly your marriage.
6th Idea: Chania wedding venues. Chania, the most beautiful city of Crete, amazes tourists with its hospitality, beautiful locations, delicious delicacies and wedding venues with amazing views. Certainly, the wedding Venues in Chania offer dreamy scenery full of natural wonders.
IN CONCLUSION
Besides these, there are many other beautiful places to get married, like olive groves, lakes, villas and charming villages. Above all, Crete Wedding venues have their own appeal and there is romance in each and every venue.
RELATED POSTS:
– Wedding photography in Crete, Greece
– Next-Day photo shoot
– "I do" at the beach
– Photographing a stunning wedding
– "I do" in Crete